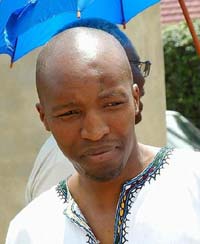 MAKING BIG STRIDES
by Sibusiso Mkwanazi, The Citizen, 16 February 2011
It is as if Mpho Makhubo - who is known as the Township Samaritan - first planned his public relations strategy around walking before he embarked on his charitable ways.
He donates sports shoes to school children who cannot afford to buy them and he is part of Celebrating Strides, a Johnny Walker-sponsored book that highlights individuals who have sacrificed their time and efforts for the benefit of others.
"The idea came about when an American friend of mine, US Army veteran Paul Cheatum, visited SA for the first time and he was warned not to set foot in Soweto and Alexandra - of course, those are the first places he went to see," laughs Makhubo, who has been working with underprivileged kids for more than five years.
"One of the first things he noticed were the kids that were playing sports - particularly soccer - barefoot or with torn shoes," he says.
"We then started the Kind Initiative for Kids' Shoes and these are distributed at various schools in different regions like Mafikeng, Soweto and Limpopo."
Makhubo also works as an HIV/ Aids adviser and wellness consultant for a private firm and, ironically, his work there steered him away from being involved in this manner.
"HIV affected and infected people receive a lot of help - it will never be too much - but I just thought that we should focus on an area that very few people even consider," he says.
"This country has evolved so much in part to sports. Think of the Rugby and Soccer World Cups and how quickly they have brought us together as a nation.
"To support this progress, we need to ensure the grassroots levels are taken care of and supplying shoes to tomorrow's stars was one of the best ways I could think of."
Makhubo grew up in Orlando, Soweto and had the Orlando Stadium as his view. This is also where his love of sports developed.
"Seeing greats playing on that field sparked a fire within me not only for soccer, but for cricket, hockey and volleyball. I wanted other children to experience the joy that I felt when I participated in these sports," he says.
What Makhubo has been doing is so unheard of that he has interesting stories about the reactions he gets after handing over shoes.
"There was once a mother that was convinced her son stole the shoes as she had not bought them for him," he says.
"She promptly marched to his principal the following day and demanded to know how her child could be allowed to go out and steal during school hours.
"She just could not believe that a stranger voluntarily gave her son a pair of shoes."