History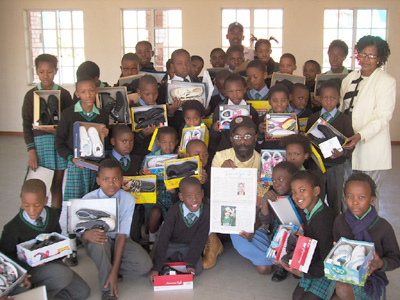 Project KIKS was founded in 2004 by Paul Cheatham Jr., a Yountville Veterans Home member and Mpho Makhubo, an HIV & AIDS activist. Its objective was to provide shoes to disadvantaged children in and around Soweto.
Project KIKS was established as an independent NPO in Soweto.
In July 2009 Project KIKS registered as a Non Profit Organisation.
Since its inception Project KIKS has donated over 1200 pairs of shoes and socks to children within 3 Provinces in South Africa:
Ikaneng Combined School, Diepkloof, Soweto
Nkosi's Haven, Alan Manor, Johannesburg
Ikageng Itireleng AIDS Ministry, Orlando West, Soweto
Victory Primary School, Mmabatho, North West Province
Bosele Down, Bela Bela, Limpopo Province
---
Vision
Shoe the children with no shoes on their feet
---
Mission
Project KIKS uplifts communities by addressing issues and challenges faced by children, with a specific focus on human rights.
---
Objectives
To provide shoes to disadvantaged children
Abide by the Child Care Act of the Republic of South Africa;
The promotion of awareness of challenges facing children in South Africa;
To encourage people to support disadvantaged children;
To raise funds to be utilised for the purposes of fulfilling the aforementioned objectives.
---
Project KIKS governing document
Project KIKS derives its mandate from the Constitution and its founding document.
---
Status
Registered with the Department of Welfare as a non-profit organisation