Press Articles & Letters:

These links will open in a new browser window.
You can then move your cursor to the image and click to magnify.
---
Black History Month Celebration Day Program
(In memory of Kathleen "Katy" Denslow)
"Activist For Katrina Victims To Speak Tuesday at Home"
---
"Another Successful 'KIKS' Mission"
---
"See Display of Thanks From Shoe Recipients"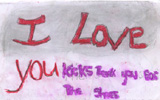 Thank You Cards from orphans of Soweto
---
"600+ Pairs Shoes, Socks Delivered to Soweto"
---
"Drawing Shows Small Town Has Big Heart"
---
"Help Cheatham Shoe More Soweto Kids"
---
"Paul Cheatham II named Home Member of the Year 2008"
---
"KIKS Delivers Its Soles to Grateful Kids"
---
"Cheatham's Christmas Rooted in '04 Tour of So. Africa"
---
"Operation KIKS - A Project for Heart and Sole"
---
"KIKS Shoe Project Heads to So. Africa"
---
"Local Vet on Quest to Bring South African
Youth Luxury of Shoes"
---